Cybersecurity awareness campaign sensitizes residents of Musanze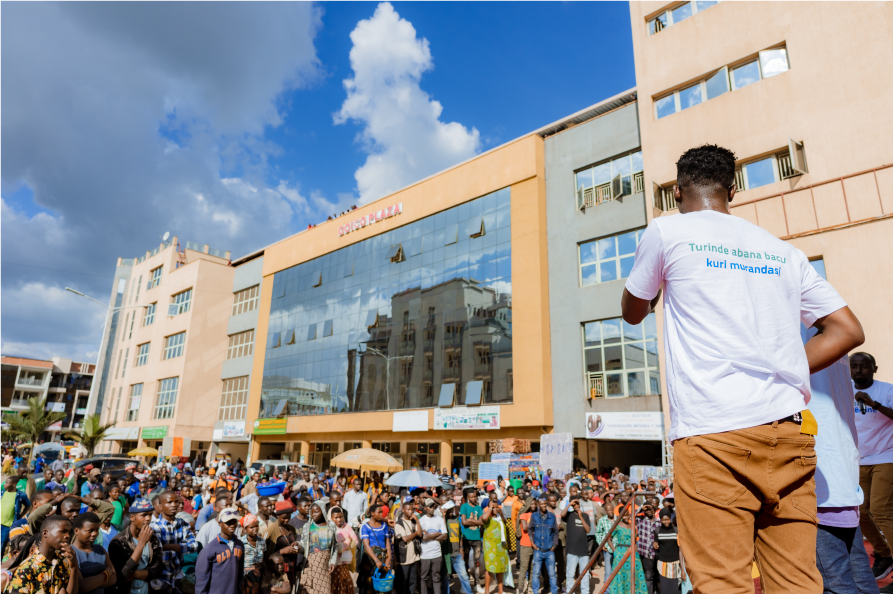 Residents in Musanze district, on Thursday, October 26, were engaged in a campaign known as Tekana Online which aimed to educate them about Rwanda's Personal Data Protection and Privacy law and promote responsible online behaviour.
Spearheaded by the National Cyber Security Authority (NCSA), the awareness campaign was structured into two segments. The first one convened various stakeholders from the hospitality and education sectors within Musanze district and aimed to raise awareness about the importance of personal data protection and privacy law.
The session took place at the district's main hall.
The second part of the campaign featured a road show held near Goico Plaza in Musanze City. This segment was designed to engage and mobilise citizens, educating them on the best practices for navigating the online world responsibly.
Adhering to the law
In the first segment, the participants were introduced to the personal data protection and privacy law and where it applies. The law is about how personal information is handled, whether it's done electronically or not, using a machine or not.
It applies to anyone in Rwanda who collects or uses personal information, like a company or a person doing business in Rwanda. It also concerns someone outside Rwanda who handles the personal information of people in Rwanda.
NCSA encouraged the participants to find out if they can register as those who have personal data (data controllers) or the ones who handle it (data processors). They were also given information on how to register and get a certificate.
They were told that all institutions should have a person in charge of data protection who is trained, and people can ask them about it if there's any misconduct.
Amos Kamugabirwe, Chief Technology Officer at NCSA, said that those currently operating illegally should fill out an application form and register as data controllers or data processors.
Additionally, he stressed that new businesses or individuals must register before engaging in any activities that involve the collection of personal data.
This awareness is being done across various media outlets as Rwanda participates in the global observance of Cybersecurity Awareness Month, which takes place every October.
Instilling right online behaviours in citizens
During a road show in Musanze City near Goico Plaza, local residents were tipped on online safety best practices and the importance of safeguarding their personal information to prevent scammers from exploiting or defrauding them.
Jean Murenzi, the representative of the Rwanda Investigation Bureau (RIB) in Musanze, highlighted the availability of cybercrimes in the area, including theft involving mobile money, citing that such incidents often occur when individuals inadvertently share their PIN or when it is acquired without their consent.
Murenzi urged citizens to take proactive steps by securing their mobile phones and regularly changing their passwords or PINs.
He further discussed the issue of phishing and the fraudulent tactics scammers employ, sharing examples of individuals receiving deceptive mobile money SMS messages, falsely claiming that money had been sent to them in error.
"The messages often prompt recipients to enter specific codes, enabling scammers to pilfer funds from their accounts," he said.
Murenzi further urged the audience to exercise caution when encountering such messages and to ensure their SIM cards are registered in their own names and deregister any SIM cards that do not belong to them.
He said that RIB and the police are actively pursuing cybercriminals, urging residents to report suspicious activities and provide information promptly to aid in the apprehension of scammers.
Alphonse Ntawumenyumunsi, the magistrate of Musanze district urged attendees to refrain from sharing their passwords and PINs, whether for mobile money or other digital services.
He encouraged them to conduct transactions discreetly and to be vigilant against falling into phishing traps, where individuals might falsely request money transfers, citing that the district has encountered several cases of such fraudulent activities.
Aimee Manirumva, one of the participants, said that he is committed to safeguarding his personal information, such as identity card, passwords, and PINs.
"I should also be cautious when receiving calls from people telling me that I have won awards without having participated in any competition. I shall report such incidents to the security authorities," he said.
The Tekana Online campaign will continue in the Rusizi district on November 7.
27 October 2023